Getting an Estimate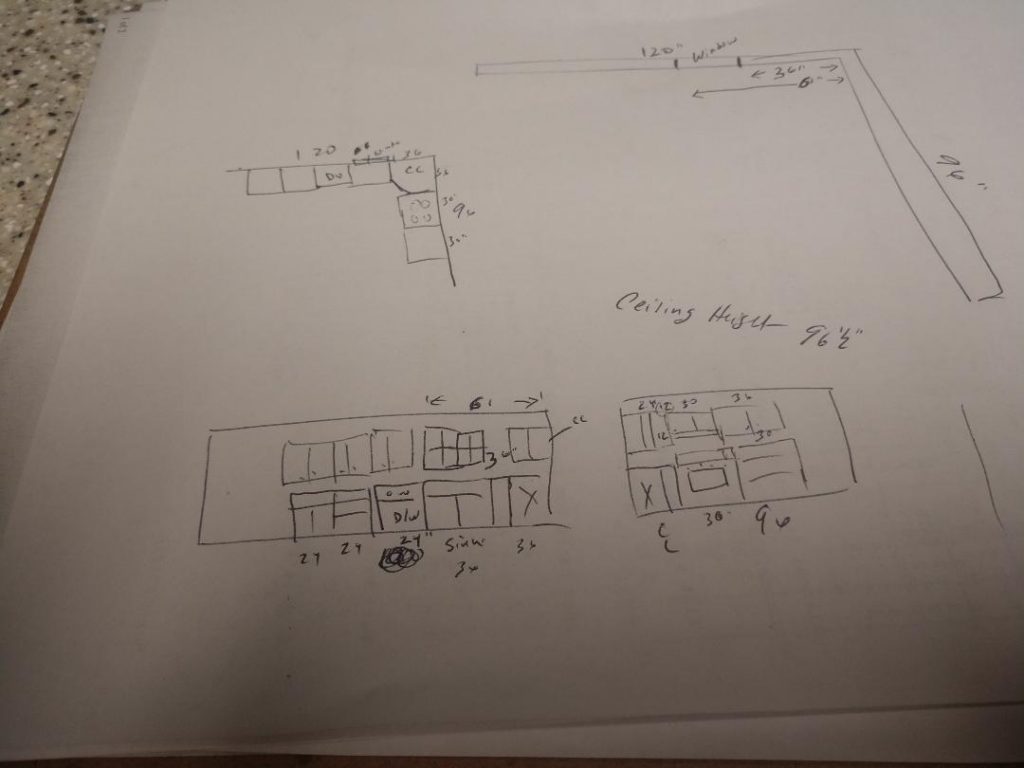 Drawings can be very simple and crude
The crude drawing above was done in a few minutes. A 120″ wall and a 96″ wall in an L configuration. The ceiling height is marked down, and there are rough elevations showing how the cabinet boxes are set. The window is located from the right side but it really doesn't matter which side is used to measure from. The drawing does show open space on each end of the L shaped kitchen,, that is important, or if there is a wall there we need to know that the set of cabinets has to fit in a confined area.
Not a lot is needed for an estimate
Measurements? Get close, we will double check anyway.
The main points are to show how the walls are arranged, measurements locating windows and doors or other things that need to be considered, ceiling height, and a basic idea on how you want the cabinets arranged.
No need to spend a lot of time, a pencil sketch will do fine. There are room planners online and kitchen planning, most are free and easy to use.
Some things are assumed like placing the sink under a window or in the middle of a peninsula if there is no window. We usually don't move sinks or stoves very far to avoid costly wiring and plumbing changes but they can usually be moved ten to twelve inches if needed.
Appliance sizes are needed as well as what kind of sink will be used so the sink cabinet is large enough. Links to appliances help but the exact specifications can be found later. A few notes describing anything special helps and sending pictures of other kitchens helps as long as you identify exactly what you like about the picture. The kind of cabinets matters, if you see something off our website right click on the picture and "save as" and send it to us. We will call if there are any questions.