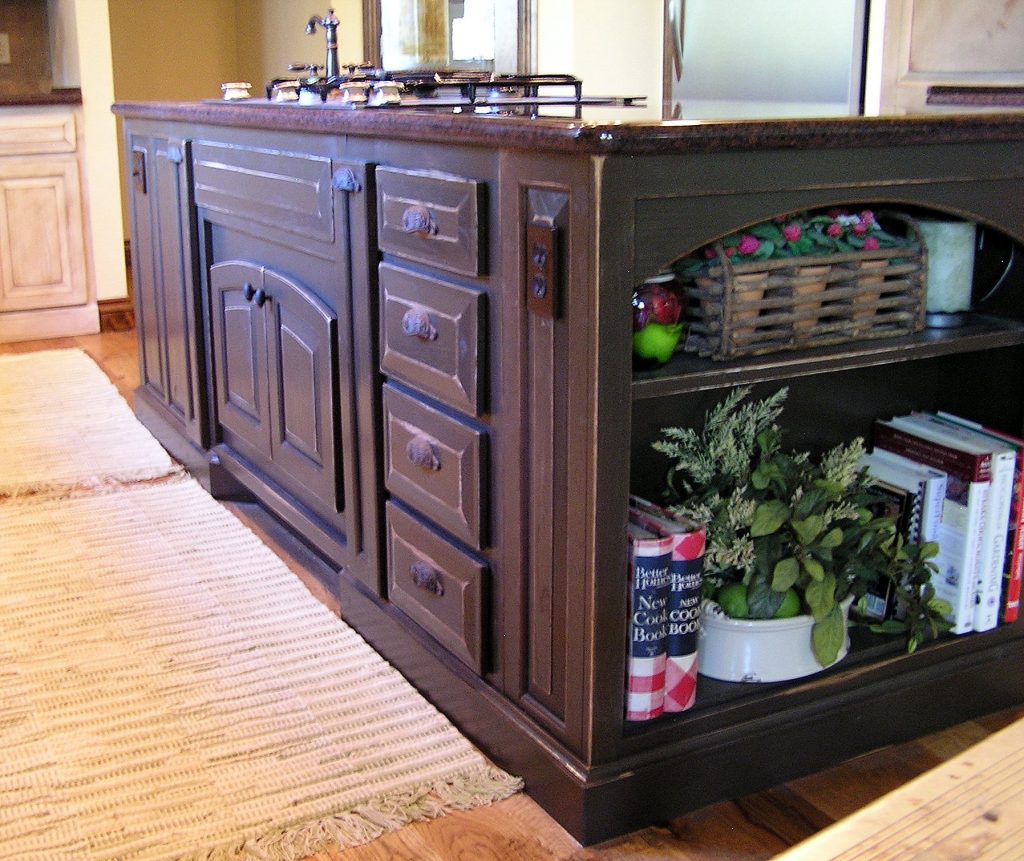 Old World Gallery

Old world style replicates cabinetry in Europe on the old estates. Rich people weren't always rich with cash, so their kitchens grew as they could afford to pay for the work. Uneven heights and styles, staggered depths, and more than a little distressing as some of the cabinets were a century older than the latest additions.

They were showing their wealth with a lot of expensive hand work too, carvings, moldings, grills, and turnings were featured. What we call whitewashing or glazing was the annual liming to kill bugs and termites.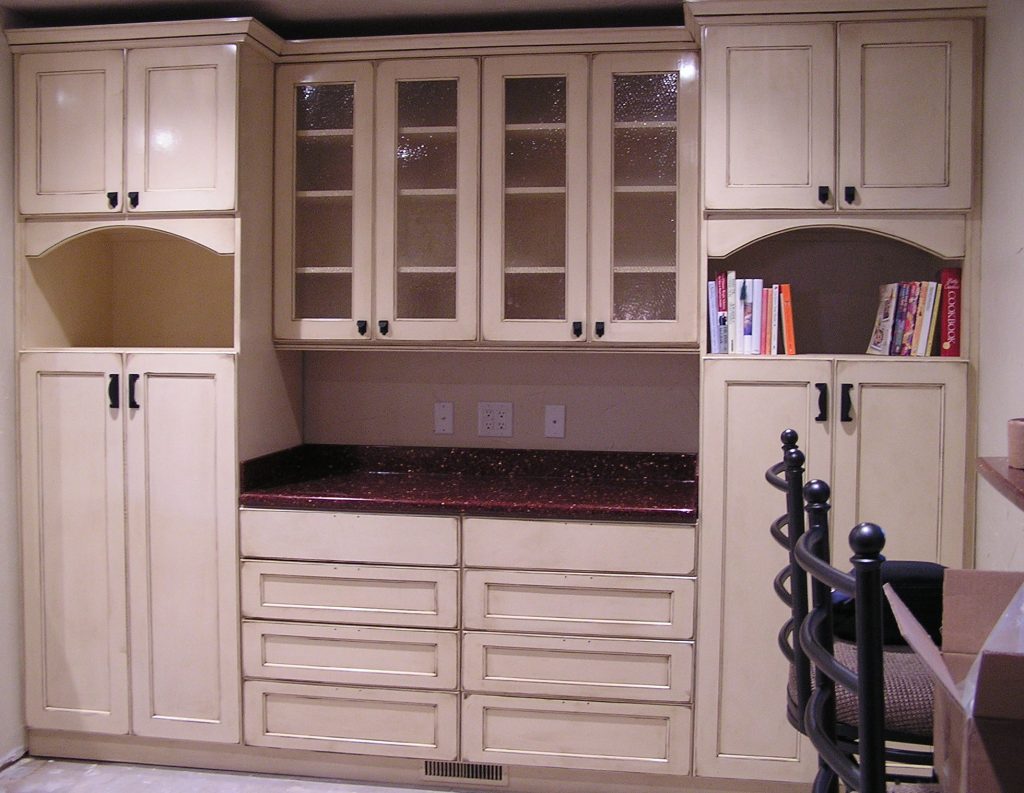 Traditional Gallery

Traditional cabinets are solid investments. Choosing a traditional look means the cabinets never go out of style and will appeal to a broad range of tastes.

Traditional cabinets are common in Oklahoma CIty homes for this reason. The resale value is the highest of all cabinet styles.
Traditional cabinets have light moldings, raised panels or five part doors, and are light on ornamentation and details. Simple, elegant, timeless are the standard hallmarks of traditional cabinets. The lack of heavy details and crevices everywhere also make them easier to keep clean.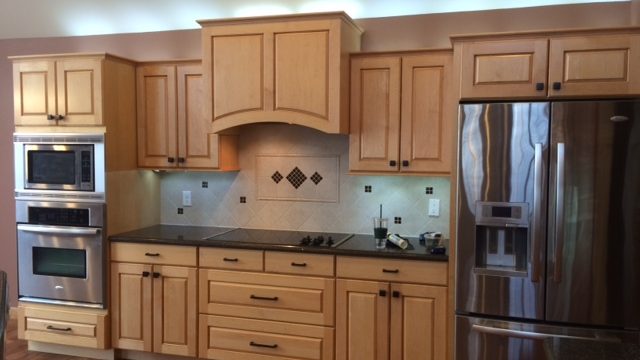 Contemporary Gallery

Contemporary cabinets are sleek and uncomplicated. They an be painted or stain grade wood, raised panel, flat panel, or five part doors.

Simplicity is the goal, let the wood grain dominate the look or have vast areas of simple panels, simple geometric shapes instead of heavy carvings and moldings. Tight and uniform reveals are needed, not easily done.

They are some of the most expensive cabinets though as the grain must be matched and dropping or damaging or scratching a single door or drawer front means replacing the entire section so the grain flows smoothly. Most shops refuse to do the modern sets for this reason but we are experts at it.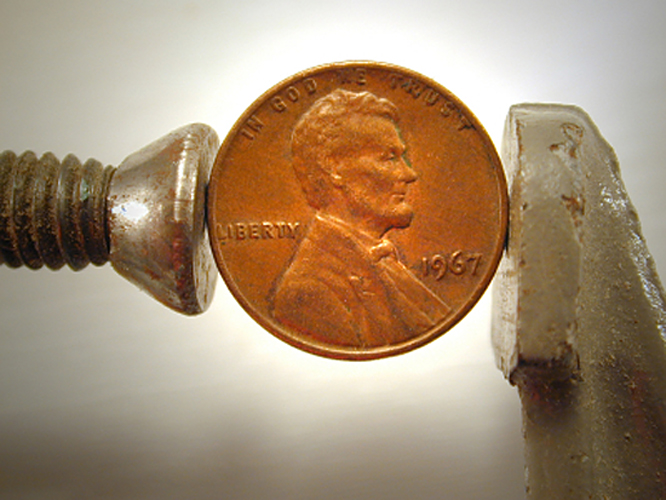 Customer Testimonials

Customer testimonials are getting harder and harder to access online. Once Angieslist.com was an excellent resource as it was subscriber paid and based. Now they sell ads and anyone can visit and see the reviews. The problem is that they only show the paid advertisers reviews, to find our reviews you have to do a manual search for our company name.
Yelp is little better, a customers first review is hidden with a tiny icon showing the hidden review till they do a half dozen reviews, unless you are willing to pay for their ads.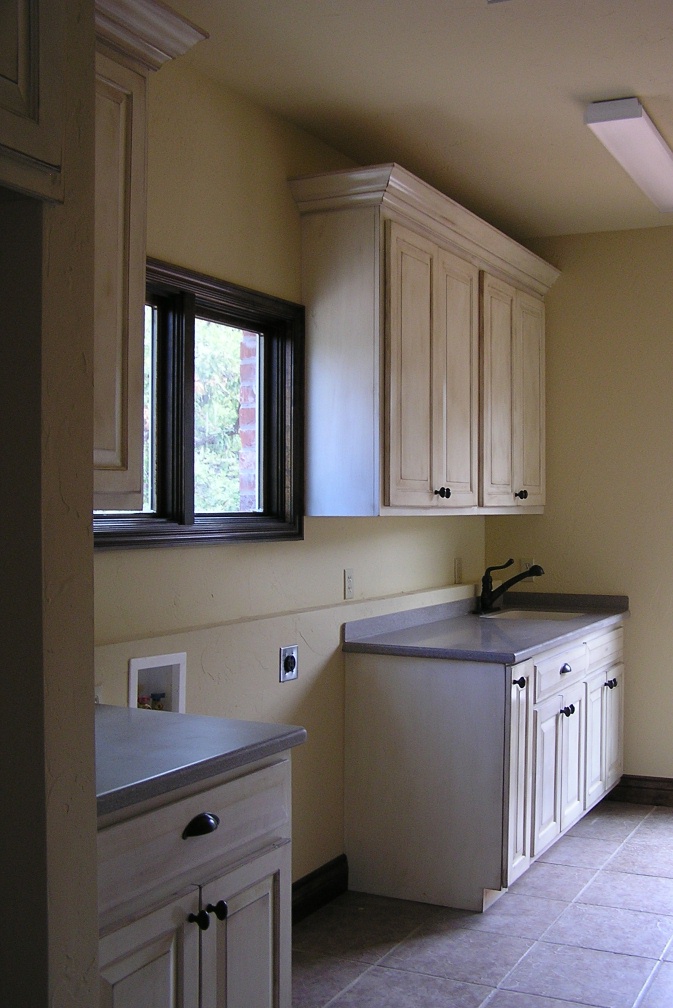 Vanities and Assorted Cabinets

Standard vanities are 20.5″ deep plus the door thickness, a 22″ countertop is standard. We can make any size though to fit the space you have.

Vanities are usually quite simple in the kids bathrooms, a bit fancy in the guest bath and master bath. A nice luxury bathroom is a nice thing to start your day off in.

Other cabinets such as linen closets, laundry cabinets, or bookshelves can also be made in any look or style. Send us pictures but tell us what you like about each picture.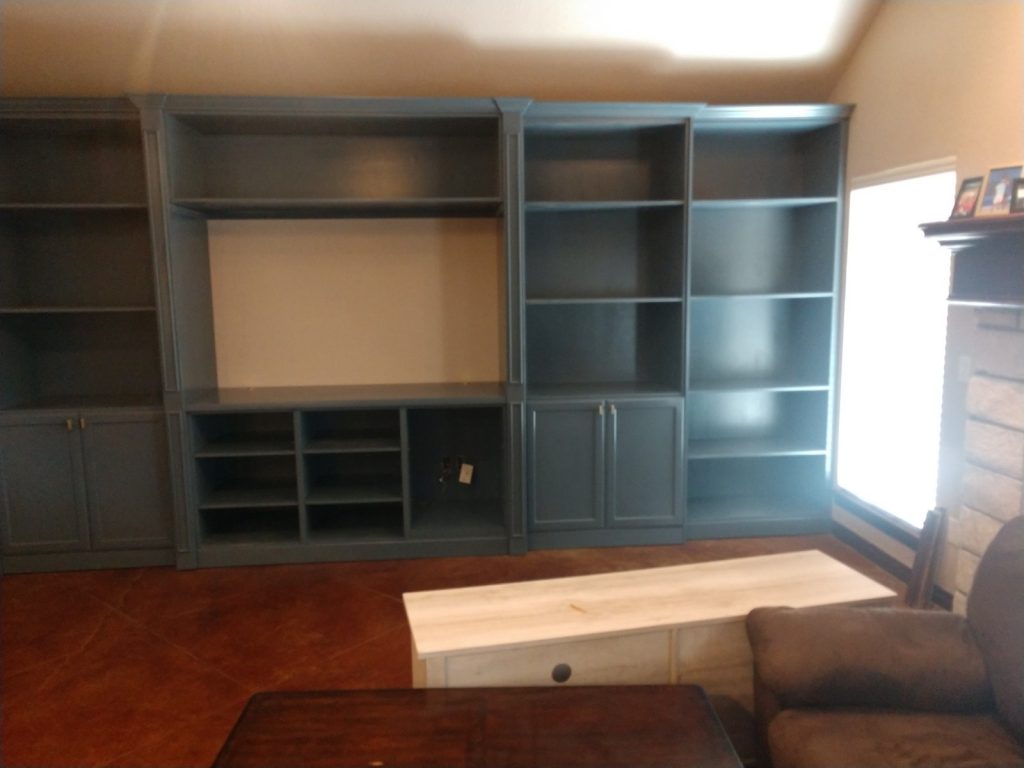 Bookcase Jobs
Bookcases can be made in sections to make transport and installation easy.
The result is a set of bookcases that look built in place yet you don't have all the dust and paint fumes in the home for the duration of the project.
Some attention to design needs to carried out to hide the joints between the cabinets so that it doesn't look like simple boxes set next to each other. Usually a thick end panel installed on staggered depth cabinets does the trick.
Different moldings already in the room can be copied or complemented, the same wood species can be used or you can celebrate the differences and go completely different as bookcases are considered furniture items.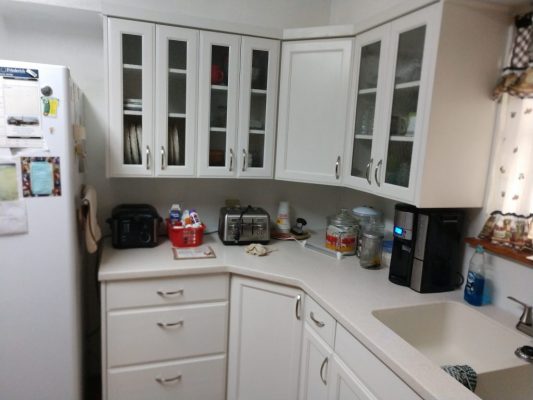 Small Kitchens

A lot of jobs that we do are small kitchens, way under $10,000 in many cases.

Small kitchens are nice in that they are economical due to the limited linear feet of cabinets needed so you can make them quite nice and still stay under budget.

And in those small spaces is where the organizational items like those made by Rev a Shelf come into being a necessity instead of a luxury.

Sometimes you can tweak the linear feet of countertop and come up with a one sheet countertop. The materials are expensive and color matched so left over material has limited use so you have to charge for the wasted materials.

Rustic Kitchens

Looking for something on the wild side in kitchen cabinets? How about rustic?

Nearly any species of wood will have a rustic grade, usually #1 common, which is a bit cheaper but you also have to buy more square footage to get the same yield out of the materials so the cost is a wash.

You are pretty much in control of how wild the project is, to an extent, as the cabinetmaker will need to use their own judgement when cutting the parts. You can get color streaks, knots, cracks, unusual figure marks, and just a little or as much as you wish.
Oklahoma City's best cabinetmaker producing fine cabinets and some pretty good quality budget cabinets. If you are looking for an OKC cabinetmaker please get hold of us and bring us measurements, crude drawings, or pictures of what you want.
SaveOklahoma