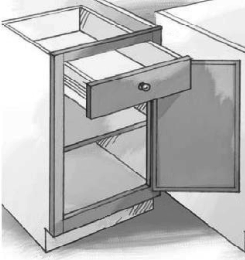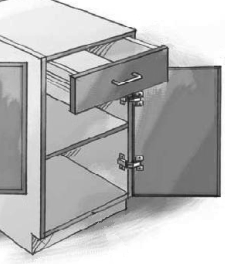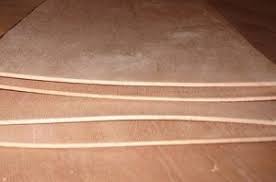 What is the Difference Between Face Frame and Frameless Cabinets?

How things are done series
Face frame is the narrow border that runs around the face of an old style cabinet and between the drawer and the door. The idea is that it adds some stability to the cabinet, increases the racking resistance (sideways force).

The problem is that the old style face frame cabinets are very labor intensive and the cost and other drawbacks do not make up for what little racking resistance is added. After all, once cabinets are installed most are fastened to a wall and most are trapped between walls, racking resistance is hardly needed. But it was how cabinets were built back in the day.
Then World War II happened and not only were most of the cabinetmakers dead or disabled, most of the other skilled workers were gone too. And there were millions of homes in bombed out cities needing cabinets and needing them quickly. So frameless cabinets were invented. You can use more technology to build frameless cabinets because of the system holes, a series of holes 32 mm apart, are used to hang drawer slides, hinges, and shelf pins. Parts can be made with precision and they will fit without being adjusted or fitted by hand.
Frameless or Euro Style has Benefits

Easier to produce with the right equipment

around 20% additional accessible storage

easier to clean, hardware more solidly attached

Must be accurate due to tight tolerances needed

Face frame cabinets usually have drawer slides hung on plastic brackets or flimsy wood U shaped dividers, frameless cabinet slides are solidly attached to the side of the cabinet, no bending which causes drawers to drop out of track.

The only downside is the precision needed on frameless because of the super tight reveals or distances between the doors and drawers. Face frame doors and drawers, get them within a quarter inch and no one will see the differences because of the wide spaces between the doors and drawers.

We started doing frameless or Euro style cabinets in order to slash the labor costs on our work. Because of that we didn't have to raise prices for about ten years. And it is easier to train workers for Euro style than the older face frame cabinets.