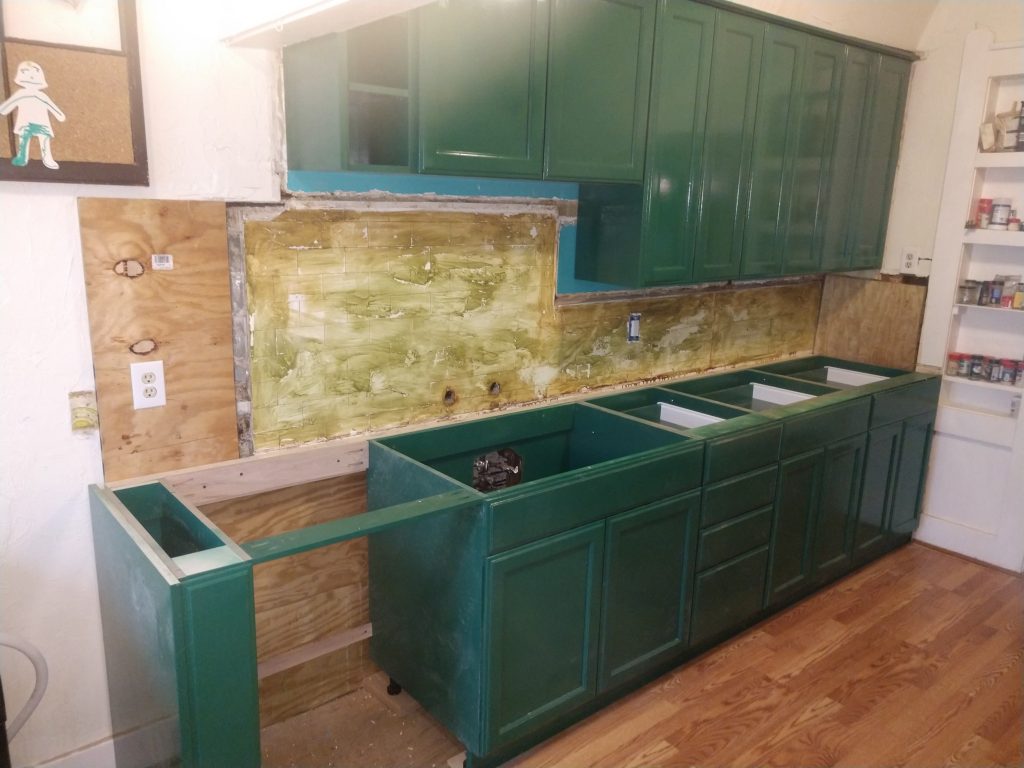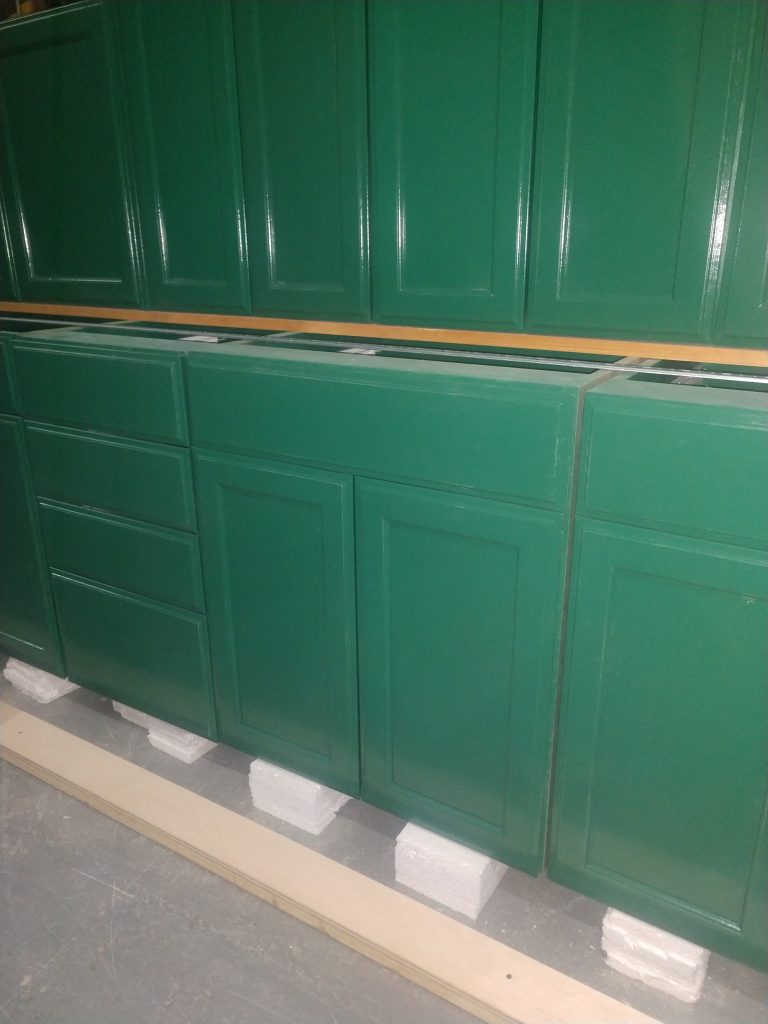 Well, define a small job

How things are done series
This would be considered a small job for a cabinet shop. The unfinished cabinets cost $3200.00, the finishing $960.00, and the delivery & Install another $575.00

Total price, was $4738.00 plus the countertop.
This was a complex job, the old cabinets were an odd 26″ depth, requiring us to hit the old foot print to avoid the floor being redone. Then that darned beam overhead right over the stove. This was a 1930's era home, tiny kitchens, lots of non standard things going on, usually lath and plaster walls that are crooked as an Oklahoma State Senator.

This job had a deep dark hunter green finish, a color coat first, then a top coat of pre cat laquer so the cabinets would hold up for years. The lower picture is the pre delivery inspection picture, the lowers sitting on foam blocks to keep them off the floor in the approximate height and the uppers just sitting on top the lower cabinets.

So the lower limit for a job is at least a thousand dollars. A small countertop, a few vanities, or a small kitchen which gets you way above a thousand dollars. Below that, a broken drawer, an appliance hole filled in, call a handyman, not a cabinetmaker. That is bread and butter to those guys.

Cabinet shops have high overhead

We need a lot of space where we can make a lot of noise and dust

We need three phase power and lots of it

We need wide doors and very tall buildings to flip lumber during processing and to handle the dust collection piping

We need large distances between the sawdust producing area and the finishing areas

All of that adds up to thousands of dollars per month in overhead before a dime is paid for materials and labor. And all the cool toys to play with needed for making quality cabinets and keeping them maintained and working to tight tolerances.

That eliminates the small work like a couple of doors or the odd broken drawer that needs fixed, a big shop has to focus on projects worth several thousand dollars for their to be enough gross profit to pay the overhead.

When you get to a large shop ran by one person, the time spent talking to customers means no one is actually making any money so taking a job for a few hundred actually costs the shop more than they can possibly charge.