A Little Bit About Us
The Carpenter Shop has been in Oklahoma City since 1992. Al has 45+ years of experience in the cabinetmaker and woodworking business, formerly building high end reproduction furniture in Arkansas.
Whether you're doing a kitchen remodel or need custom cabinets for new construction in Oklahoma City or anywhere in Oklahoma, our main focus is building custom, high quality kitchen cabinets and countertops in order to fulfill a customer's ideas of a dream kitchen. We work closely with the customer and one master cabinetmaker is in constant control of the custom cabinets from the planning to the installation You can count on your custom cabinets and countertops to be of the utmost quality and workmanship. We also build custom bathroom cabinets, closet cabinets, custom bookcases, custom entertainment centers, and new or replacement cabinet doors.

Come visit our showroom and shop at 358 N. Rockwell Ave., Oklahoma City, OK 73127. Our showroom is located in the middle of our shop so walk right in and look for the office ahead and to the right. If you hear the machinery roaring just head for the sound and please wait till you are noticed so you don't startle anyone.
From I-40 take exit 143. Go North on Rockwell to Melrose, the Southeast corner of the intersection and we are in the Southeast corner of the industrial park. Turn East on Melrose, turn right into the first actual driveway. We are in the very back in the large concrete building behind the small green metal buildings, look for the three blue overhead doors on the building that has the long, full length truck dock along the front. Call first to make sure someone is in the shop because I may be out at a job site, 405.942.2644
We make the most technically advanced cabinets in Oklahoma City using the 32mm European construction method for precise fit and quality. Advanced hardware systems allowing modification and repair of installed cabinets
————————————————————————————————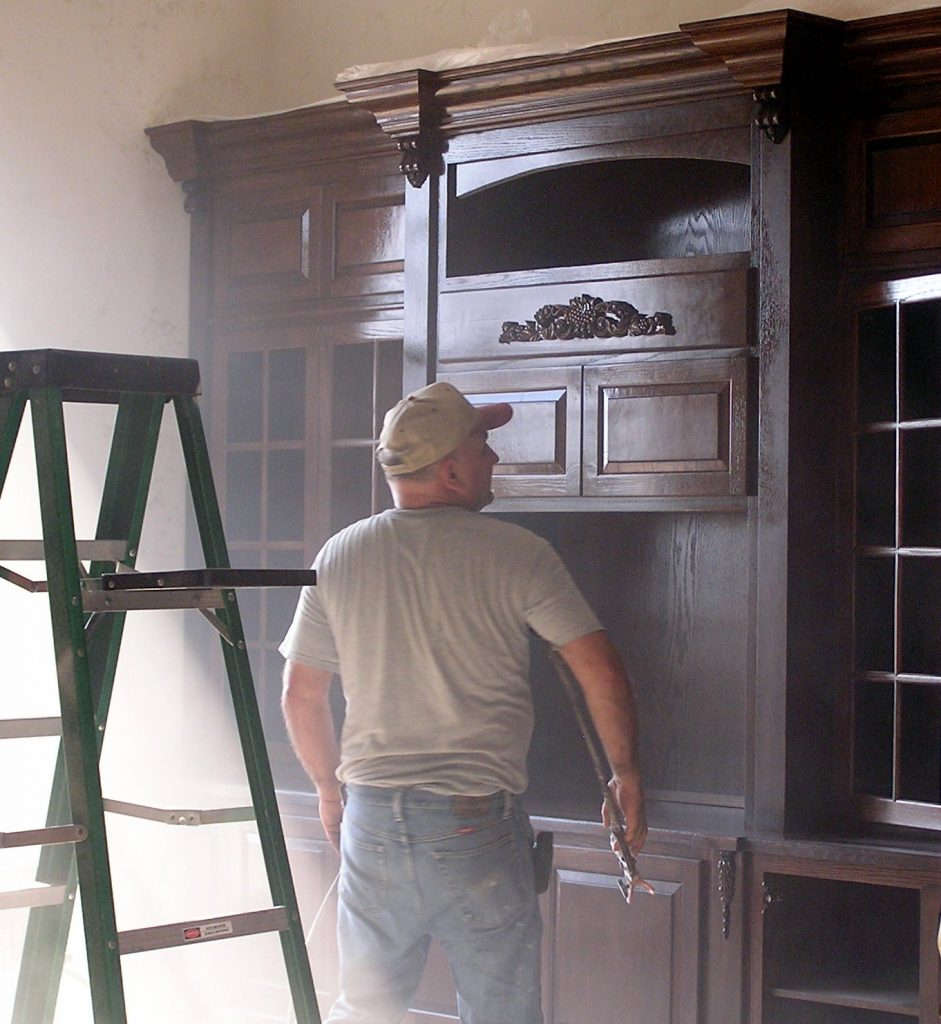 . W use leg levelers also called cabinet feet to reduce damage to cabinets when a water leak in a customer's home occurs, steel hanging rails, and all hardware goes in the precisely drilled 32 mm system holes. If a cabinet maker is serious about his trade and planning on staying in the business he will have the equipment to produce frameless cabinets but if the cabinet maker is just starting out or if they have unskilled labor they will usually be limited to the old style face frame cabinets because it is very forgiving. If the parts are near the right size they can be used. There is a world of difference between the quality of cabinets produced in a well equipped cabinet shop and those produced on site even if the cabinetmaker has some experience.
———————————————————————————————–
Complete customization for a truly one of a kind look. Bring us pictures or email if you have a look in mind, just tell us exactly what you like about each picture so we understand your needs. Let an experienced cabinetmaker show you what is possible instead of a big box store employee that was selling plumbing two weeks ago.


Better quality materials used in our standard cabinets with the ability to up-grade at minimal cost and we use more material in our cabinets than traditional face frame cabinet makers. A Euro cabinet design will take twice the sheet goods but in return you have much, much, more solid cabinets with full support for the countertop. This also allows all parts of the cabinet to be easily replaceable without ripping apart the entire cabinet and ruining the finish. End panels, edgebanding, doors, drawer front, trim, crown molding, all can be replaced with ease. The boxes themselves are built to last for the life of the home so fifteen years from now when you are tired of looking

at those cabinets you can just switch out edgebanding, drawer fronts, doors, trim, and end panels and have an entirely new look. Or if you have to change out an appliance the cabinet is easily modified to make the new appliance fit.

Door hinges are 32mm adjustable concealed hinges. These hinges have six way adjustment and will snap off and on to get out of the way when the plumber comes over to install the sink or if you want to lay down shelf paper. Oklahoma City cabinet makers that are staying current on styles and new hardware will be using this system.

If you choose wood drawer systems we use solid maple 5/8″ thick drawer side stock, with a dado-ed bottom so the 1/4″ bottom has a groove to support it on all four sides. A well build, glued and nailed hardwood drawer box on good ball bearing slides will last the life of the home. Dovetailed drawers are nice but not necessary at all.


————————————————————————————————
. Even better are the Zargen drawers mentioned below with 3/4″ thick drawer bottoms. We can make dovetail drawers but we really don't

recommend them. Dovetails are needed in the older cabinets with wooden drawer slides where you could pull a drawer apart quite quickly but with modern drawer sides dovetails are a waste of money frankly. A good cabinet maker knows that a simple butt joint drawer, glued and nailed, installed on good drawer slides will last longer than the house will. Save that dovetailed drawer money for some better appliances or knobs.
Grass Zargen Drawer System. is is our standard drawer. We use a 3/4″ thick MDF drawer bottom. Over

time we've found that a substantial amount of tinkering with solid wood drawers to make them roll out smoothly due to the tendency of solid wood to warp & twist. With these Zargen drawers there is no warping or twisting and

installed in our 32mm system holes ensures a smooth

slide. Other drawer systems are available including undermount and side mount ball bearing slides. These types of drawers are another mark of a well equipped shop as two expensive automatic drills and one automatic press are required to use these systems.

Design, delivery & installation includes pre-build inspection & site measurement, identify design conflicts & suggest alternatives, verify appliance fit, cabinet-installation & leveling, install crown molding on crown molding caps for a seamless appearance, cabinet trim & light rail installation (base & case not included), doors & drawer fronts adjusted, Finish touch up if needed, and knob & pull drilling as long as your purchase the knobs and pulls from us. And a cabinetmaker will do it all, not an inexperienced cabinetmaker using the tools he can haul in his pick up truck. We do our own finishing too so no finger pointing, if the sanding isn't right before finishing everyone knows who needs to fix it.

————————————————————————————————
An experienced cabinetmaker will use 3/4 MDF for cabinet carcasses. MDF stands for medium density fiberboard. It is flat,

strong, dimensionally stable, & won't fall apart if it gets wet or with age. Generally plywood is not used for Euro style cabinets as plywood is too inconsistent in thickness, is full of voids in the core layers that can cause hardware to pull out, and the plywood is too prone to warping. The need for very tight tolerances generally requires that MDF be used although there is a form of hybrid plywood that is stable enough to use. Melamine film is available or a pre cat finish that provides protection against water damage from leaking plumbing & it provides a very smooth interior for easier cleaning. All parts of all cabinets are also easily replaced should the need ever arise. We use 3/4″ wood veneer MDF in cases where the stain grade cabinet interior is open or will show through glass doors or on a frameless cabinet if the end is exposed and there isn't enough room for a separate end panel.

For people who want to see matching grain & stain on

the interior of the cabinet when they open the doors, 3/4 plywood can be used for all parts of the carcass but it costs extra. We love working with plywood because it is so much lighter but it is a poor material to use for Euro style cabinets.

Why we don't use solid wood in carcass construction. People ask about "solid wood cabinets", well there aren't many of those around for good reasons. Solid wood expands & contracts with humidity changes and has a tendency to not stay completely flat. Solid wood doors have a 1/8″ industry accepted tolerance for warping. Large doors past 48″ usually have no guarantee that they will stay flat and usually these oversized doors are expected to warp.
————————————————————————————————
So consider if the large sides of a cabinet box were made from a slab of solid wood that the wood would expand & contract and in the future crack & warp. This is why we nor any other competent cabinet maker or manufacturer will use solid wood for the cabinet carcasses.
Instances where we will use solid wood. If a decorative or fancy cabinet style is what you have in mind or if you like the look of grain behind paint, we can use solid wood raised panel ends. But the raised panel end is composed of at least 5 different pieces of wood. A raised panel door or end panel will have "floating" center panels so the center panel can expand & contract so it is not glued in place. The stiles and rails, the outer wood perimeter, keep the raised panel fairly flat and allow the contraction and shrinkage over time. Space balls, small compressible spacers, allow the panel to not rattle and as the panel expands the space balls will compress to provide room. So if wood is going to be stained and is in critical places then wood is the best materials but not for large sections like cabinet interior parts.
Find out why The Carpenter Shop is Oklahoma City's best source for kitchen cabinets and countertops. One of the few Oklahoma City cabinetmakers that still actually builds their cabinets instead of selling imported Chinese products. We are one of the few Oklahoma City shops that finish the cabinets that they make instead of relying on a poorly skilled house painter to do an on site finish job.
We build and install cabinets in Oklahoma City and all over the state. Surprisingly cabinet makers in the rural part of Oklahoma and in the smaller towns aren't always cheaper due to the lack of competition nearby. Estimates are free if you bring in the design and measurements then we will do our on measurements before starting the job.
————————————————————————————————