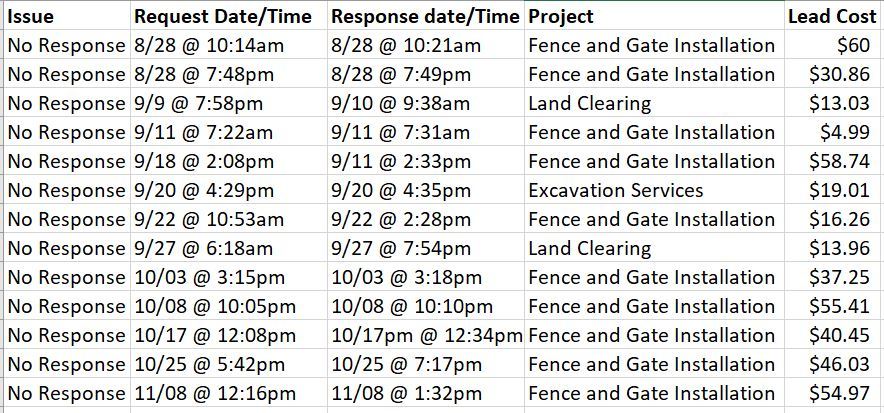 One victim's record of Thumbtack robbing them blind

Are we on Thumbtack or Homeadvisor?
That is a bit old NO! These referral companies like Thumbtack, Yelp, Houzz, Angieslist.com, and Home Advisor are nothing more than scam artists forcing their way between consumers and tradesmen. Their ads sound great, the tradesmen are pre approved and background checked, the reality is that they will allow anyone that will give them access to their bank account to advertise and become one of their "trusted" tradespeople.
Read the horror stories from both consumers and tradespeople on Thumbtack on a site like consumeraffairs.com. The scam works by the referral company setting up a website claiming to have a stable of tradesmen and vendors pre approved and waiting to come solve problems for you. Sometimes they did at one point, in the early days of organization they had low or even no fees to the tradesmen, some like Angieslist.com even charged the consumer. I was one of those consumers in the early days of Angieslist.com paying $20.00 a year to have a place with dependable reviews and it worked. Soon I saw my customers putting reviews on Angieslist and I had and still have an A rating. Then the bean counters take the company public, the consumer charge goes away and they start selling advertising and next your A rating as a business becomes only visible, in fact your company becomes visible, only if you pay thousands of dollars a year to Angieslist.com.
Money Corrupts Reviews and Ratings

Thumbtack walked the same road, vendors and tradespeople said it was great in the beginning and it slowly got worse. A "customer" would fill out a request for quotes and supposedly it would go out to the exact kind of tradesmen in the exact area the customer lived in or the business covered. The business would look at the request, if it was something they did and something they had the time to do they would contact the customer and be charged $20.00 to $50.00 usually as a finders fee. Say it was a cabinet job, well that is a bargain if it is a real customer wanting a bid. Thumbtack would call my business on a regular basis asking if we were interested in joining or claiming they had a customer that needed some work. In reality they were trolling for new tradespeople to handle work that they either made up or requests coming in for work that they had no one to bid on. I always told them not to call ever again and if a customer wanted a bid they could just call me.
It didn't take too long for Thumbtack to learn or for human nature to take over. Soon those quotes were going to any vendor with a pulse that did anything remotely associated with the request. You want a drawer fixed on that $60.00 IKEA dresser that uncle Bob gave you? Surely this high end Kitchen Design company would love to bid on that. Along with the floor re finisher and the framing carpenter. Now Thumbtack is charging for the lead even if the vendor doesn't contact the customer or even if they reply back saying they do not do that sort of work. And that one $20.00 repair job just generated $300 in lead costs to vendors in a 150 mile radius of the consumer that made the request. Many of the negative reviews from tradespeople claim that the majority of the "leads" on Thumbtack are fake, that the customer accounts will disappear or change erratically,
and that few of the leads ever respond back if contacted. Tradespeople find their bank accounts drained of hundreds, sometimes thousands of dollars with zero actual jobs actually being bid much less completed.
As you can imagine vendors start dropping like flies and getting out of the program. Worse, there are dozens of customer reviews stating that once you post a "job" you cannot modify or delete the job, it might be in the system for years so the "lead" can be sold to the next set of sucker businesses that sign up for Thumbtack. A single lead, even one that might be two years old, will be sold to fifteen or even twenty vendors.
Home Advisor also has a horrible review rating history . Now think about that, a company that offers reviews on contractors and vendors itself has horrible reviews. Some of the over 7,000 negative reviews on reseller ratings shows that competitors actually turn in leads on their competition in order to drain their bank accounts and drive them off the program! And the same complaints from both consumer and tradespeople that have signed up, fake leads, out of state leads, leads that have nothing to do with what a company does, all charged out for as much as $90.00 per lead and each lead might be sold dozens of times.
Houzz has similar ratings on the independent rating sites . They tend to have a mix of angry tradespeople that got sucked into a year long contract for thousands of dollars with no leads to show for the marketing expense and angry customers complaining about poor work or poor customer service. It kind of stands to reason that if the company scams the businesses providing the service then the businesses need to scam the customers to make back what was scammed from them.
Houzz seems to depend upon a long contract that locks new businesses in for one year for thousands of dollars per year and as soon as the business realizes the leads are worthless they try to cancel and cannot. There are tons of angry consumers that have bought something off Houzz, the company itself, not an advertiser.
The bottom line is that these referral services are just not a good idea for either the consumer or the tradesman advertising on the service. Google the services that you need, paying close attention to the suggested searches at the bottom of the search result and contact a local service or contractor, then leave a Google review as Google seems to be the only honest review site and it has its own problems.
Oklahoma City's Best Cabinetmaker and Countertop Shop